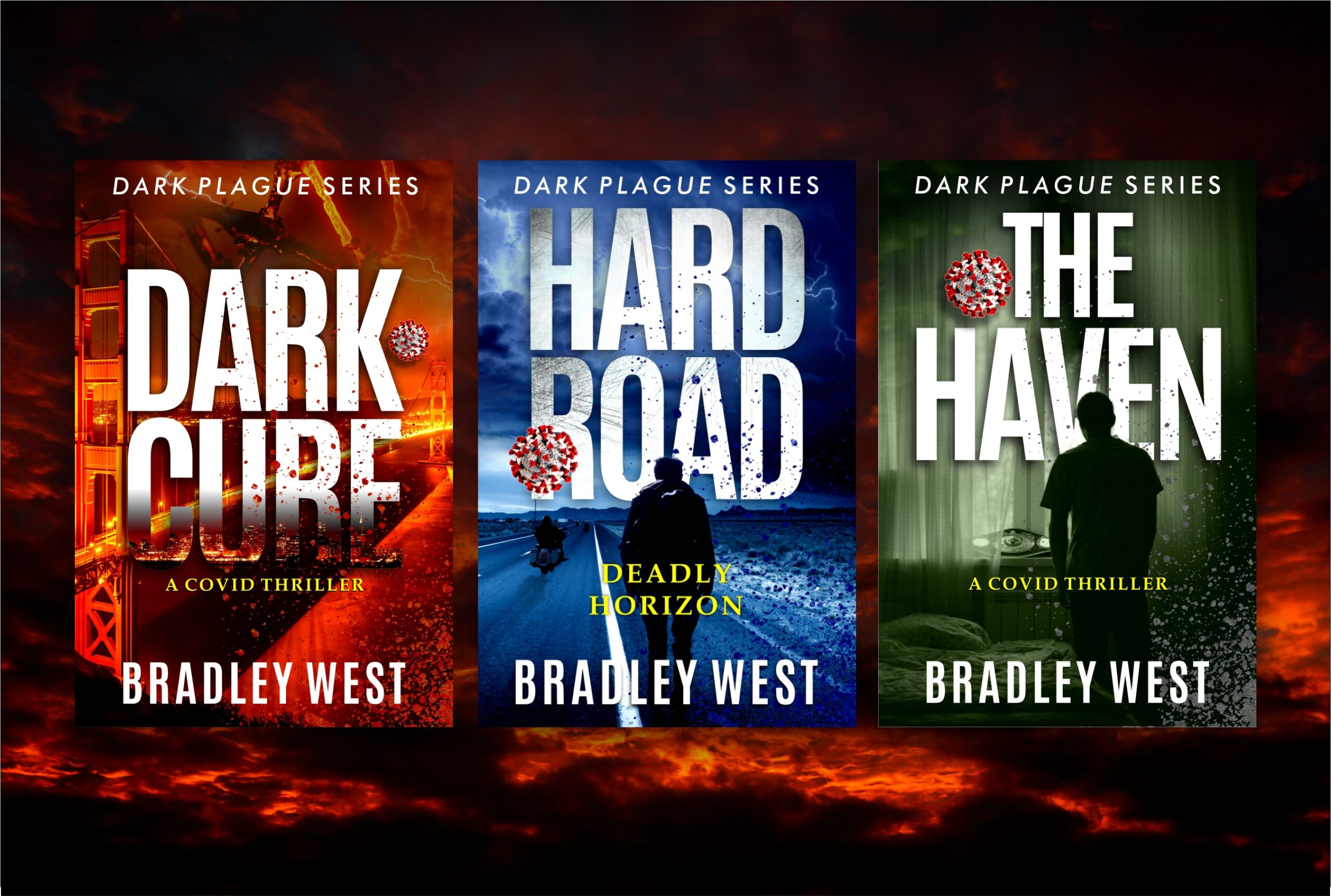 Design: Juan Padrón
In the wake of the American Fiction Awards naming Dark Cure the Best Medical Thriller of 2021, I've discounted the Kindle price to $0.99 (click Dark Cure Kindle page) to induce readers to pick up this Covid page-turner before hunkering down with the sequel (which can be read as a standalone action-adventure, but contains spoilers vis-à-vis Dark Cure).
Follow-up Hard Road: Deadly Horizon (Hard Road Kindle page) hit the streets in late August and a pair of editorial reviews have landed. Book blogger Rekha Rao operates The Book Decoder and published a lengthy review on her site (see The Book Decoder full Hard Road review). Below I've reproduced a synopsis of her detailed review:
"I loved Dark Cure and read it before the Covid19 mutations (in real life) created havoc worldwide. The Dark Plague trilogy is based on Covid19 mutating to something deadlier – is it a coincidence that we witnessed something similar in reality?
Hard Road by Bradley West is a gripping and completely engrossing thriller. I was hooked onto the story and could not put it down until the end. The third book in this series will be released sometime in 2022 and I cannot wait to see what's next for the team—after all, we had some shocking developments and conclusions in this book."
New York Times Best Selling Author Don Mann (see Don Mann Amazon Author Page) has offered his views as well:
"Hard Road: Deadly Horizon has everything and more
Hard Road features a unique storyline that's incredibly engrossing and beyond absorbing. The fast-paced plot is set in the San Francisco Bay area and deals with the horrific possibilities of what might happen if Covid-19 mutated into an even deadlier form, causing society to break down.
The book is full of edge-of-your-seat twists and turns. Every scientific, weapon, tactical and geographic detail feels meticulously researched. The characters were developed to the point where I felt I knew them personally. The intrigue and suspense levels are high throughout the book and I found it impossible to put down.
After reading Bradley West's entire series, I am convinced he is a major new talent in the suspense fiction arena."
* * * * *
I'm flattered by Rekha's and Don's comments and hope they prompt you to spend a buck (on Dark Cure) and four (on Hard Road) to see if you are in agreement.
I'm on a break before putting pen to paper later this year for The Haven, the blockbuster finale to the Dark Plague series.
Bradley West, September 6, 2021